Whiskey in our History
WHISKEY IN OUR HIST'RY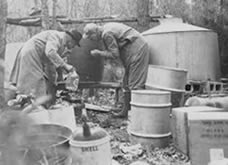 Moonshine, or white lightning whiskey, is the first American whiskey. This liquor is produced from a corn mash and is not aged, giving it a clear color. After the Civil War, corn whiskey production became an underground business due to new federal taxes on alcohol and spirits. The name for the liquor became moonshine because it had to be made at night to hide the smoke from cooking the mash. Moonshine is produced mostly in the southeast of America. Tastings: The Beverage Tasting Institute
Everybody in the United States has a white lightning story.

John Hancock, first signer of the Declaration of Independence, was an illegal rumrunner. A seizure of a boat load of rum by king's customs officials motivated him to sign the Declaration. You can see his anger in the large size of his signature on the document.

The Colonial Army supplied its troops with a daily ration of four ounces of either rum or whiskey. link
A Baptist minister made the first Kentucky "bourbon" whiskey in 1789. Lender, Mark E. and Martin, James K. Drinking in America. New York: Free Press, 1982, p. 33; Grimes, William. Straight Up or On the Rocks: A Cultural History of American Drink. New York: Simon & Schuster, 1993, pp. 52-53. link

The first civil unrest in the United Stated was the Whiskey Rebellion in 1794 in Western Pennsylvania..

Whiskey was a major source of income for the nation's first president George Washington. He made and sold whiskey after his presidency at his Mt Vernon estate. The Mount Vernon Estate is in the process of reconstructing George Washington's distillery and the Smithsonian Institute will loan a copper still to their effort. link

The Temperance movement spawned prohibition in 1919, which banned the distribution and sale of alcohol in the U.S. The "Dry Law" was repealed during Franklin D. Roosevelt's administration in early 1933 after failing to separate people and alcohol.

The roots of NASCAR extend to fast cars and whiskey runners all across the rural southeast. Junior Johnson, an early NASCAR star, was caught by revenue agents firing up his daddy's still.