Books
»

Books
The Knees of Gullah Island - March 2008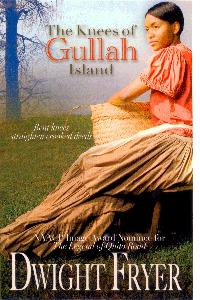 The Knees of Gullah Island follow the story of Gillam Hale, the grandfather of Son Erby from The Legend of Quito Road. Gillam Hale was born to free parents, and his life was untouched by slavery until his African Methodist Episcopal preacher father took him on a trip to minister to the Virginia slaves. Gillam wants beautiful Queen Esther from the moment he sees her, but the only way to purchase her is by distilling illicit whiskey against his family's advice. Though Gillam achieves his aim, his talent for making fine whiskey earns the wrath of jealous white neighbors who kidnap Gillam's family and scatter them to plantations throughout the South. Gillam escapes from his newowners, yet he can never be truly free until he finds his lost loved ones, and faces the legacy of his own rash decisions. The novel's main theme is "bent knees straighten crooked deeds." The Knees of Gullah Island examines Gullah/Geechee culture and its historical significance in the history of the U.S. and the Carolina Lowcountry.
The Knees of Gullah Island follows Gillam, Queen Esther and their son, Joseph, to Charleston, Edisto Island, and the South Carolina Lowcountry in the years surrounding the Civil War and Reconstruction, when the destiny of a nation hung in the balance. Filled with richly drawn characters and details that bring the past to vibrant life, this is a timeless story of love, loss, hope, and rebirth. This story explores the complex racial dynamics that shaped the South through one family's extraordinary journey to freedom.
Pre-order your copy today at Amazon.com, Barnes & Noble, Borders
---
The Legend of Quito Road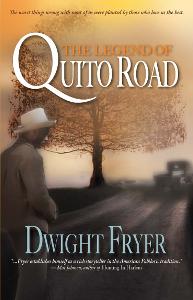 "Making white lightning just gets in your bones," Gill Erby told his only boy during their first trip to a whiskey still. That illicit knowledge transformed Son, as his momma Sarah called Raymond Simon Erby, from pure and innocent to cunning and calculating. The economic and emotional common ground of Prohibition-era illegal whiskey and cross-race relationships create the story's tension.

This book communicates complex societal themes in simple, easy to understand language. Kimani Press will deliver this novel to the marketplace in June 2006. By the end of The Legend of Quito Road in 1935, Son Erby makes 50 gallons of whiskey a week, completely on his own, and sells it on Beale Street, the home of the Blues, in downtown Memphis—he receives $250 for his troubles.

Readers learn the secrets to whiskey making, molasses cooking, and great Southern barbecue from Ray's father, Gill Erby. Papa Gill taught Son to smoke whole hogs with wild cherry wood, sassafras root, and pecan tree leaves. This authentic and time-tested family barbecue lesson includes anecdotes and analogies on how the smoke (troubles) and proper seasonings (tragedies) create the flavor in the pork and in life.
---
"This stunning debut novel draws the reader back in time into the intricate, complex and precarious life in depression-era rural Tennessee where his descriptions of life along Quito Road are so vivid, the reader can almost feel the dust." - Linda Gill, Publisher

"My eyes smiled when I read this historical masterpiece of fiction. It's a must read for avid readers." - Rosalyn McMillan, Best-selling author of Blue Collar Blues, The Flip Side of Sin, and This Side of Eternity

"Passionate, engaging, honest even when it hurts. With The Legend of Quito Road, Dwight Fryer establishes himself as a rich storyteller in the American Folkloric tradition." - Mat Johnson, author of Hunting In Harlem and 2004 Hurston/Wright Foundation Legacy Award in Fiction Winner

"Son Erby, learned a secret science and he learned it well. Dwight gives the reader the opportunity to learn the secret of our past, a past we will repeat if we don't learn from it." - Frederick A. Miller, CEO of The Kaleel Jamison Consulting Group, Inc., co-author of The Inclusion Breakthrough and consultant to organization leaders regarding creating an Inclusion Mindset
---
Book Three

Miss Omega Byers named her boy Maine so he could not easily be called boy after he reached adulthood. Maine Byers and his mother lived in Tunica, Mississippi where Maine was born in 1914. He had the gift of olfaction, a heightened ability to taste and smell. Each day, Maine detailed the ingredients to the stew in his mother's black cast iron kettle from a single taste on his tongue and a whiff of the pot's steam; seldom was he wrong. This came in handy after the Great Mississippi River Flood of 1927 flushed him out of Tunica, like it did hundreds of thousands of other farm workers to jumpstart the great migrations from the South to regions of the United States' North, Southwest, and West. The great river swelled to 100 miles wide at some points and muddy flood waters coverd the ground where a million and a half persons lived.
Amidst this chaos, Maine Byers floated ashore on the west bank of the Mississippi River and the Negro levy workers mistook his mottled skin for the signs of death and body tissue decay. Maine suffered from Vitiligo, a condition that stops the skin from producing pigmentation. Maine ended up in El Dorado, Arkansas, a site named "The Gilded One" by the Spanish conquistadors. This name came from the gold those explorers expected to find at that location. But, the gold at El Dorado came hundreds of years later in 1921 when light sweet crude oil was discovered with the drilling technology available in that day. El Dorado's population exploded from 500 to 20,000 persons in six months...every challenge, issue, and graft that comes with any boomtown arrived with the new citizens. Inflation, murder, prostitution, shortages, theft, and corruption became routine in a formerly peaceful Arkansan town where the Mayhaw Tree festival occurred each Spring.
Maine Byers, a colored boy who needed to earn his living in the fields of El Dorado, could not stand the bright rays of the sun, a Vitiligo side effect. But, near the oil rigs at El Dorado, where the test well soils sometimes tasted of light sweet crude, orphaned Maine Byers found his way.
This novel's main theme is that love and forgiveness lubricate the soul.